VAS 5054A ODIS V3.03 met Bluetooth-ondersteuning UDS Protocol met volledige OKI Chip
Opmerking: VAS 5054A hardware ondersteuning online codering, maar biedt geen ondersteuning voor onze software. Software moeten krijgen bij VW dealer voor online codering functie.
Kenmerken:
1. met OKI Chip
2. UDS-Protocol ondersteunen
3.

Multi-taal: (U kunt een taal kiezen, de standaard

taal is Engels) Engels/Japans/Portugees/Roemeens/Koreaans/Nederlands/Pools/Turks/Spaans/Frans/Italiaans/Kroatisch/Deens/Duits/Zweeds/Fins/Sloveense/Tsjechische/Russisch/Grieks/Chinees

4. automodellen ondersteund: VW, AUDI, SKODA, SEAT en Lamborghini (als je ook Bently software wilt, Voeg $20. Bently software is versie V18 en heb alleen Engels)
5. Bluetooth versie

VAS 5054A ODIS V3.03 Computer Windows System Requirements:
De taal van het systeem van de Windows: Amerikaans Engels
Windows XP(xp2/xp3), Win7, Win8
Systeem C: / / moeten NTFS-indeling
C: / / moet hebben van ten minste 40 GB ruimte voor het installeren van VAS 5054A
Beschrijving:
De VAS 5054A is een universele diagnostische interface voor de voertuigen van de Volkswagen-groep en alle OBD-systemen van andere fabrikanten.
De geïntegreerde Bluetooth-interface verbindt het voertuig met een notitieboekje, desktop-PC of testsysteem.
Zonder dat hiervoor kabels nodig zijn voor voertuig diagnostiek met behulp van de VAS 5054A.
Het bereik van de draadloze Bluetooth-verbinding is 2 tot 5 meter, afhankelijk van het milieu en het type van de Bluetooth-adapter gebruikt op de PC zijde.
Het seriële poort profiel (SPP) wordt gebruikt voor de overdracht van gegevens via Bluetooth. Verschillende Bluetooth beveiligingsniveaus worden ondersteund.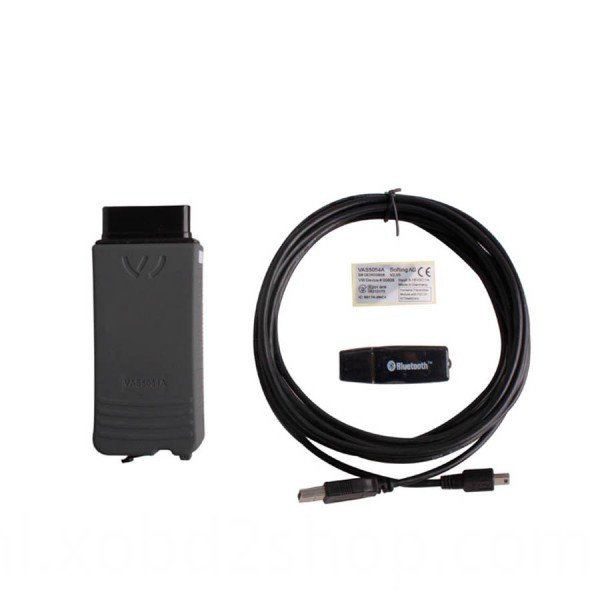 Specificatie:
De protocollen van het voertuig worden direct in de VAS 5054A behandeld.
Dit zorgt voor snellere reactietijden en een betrouwbare real-time gedrag onafhankelijk van het besturingssysteem van de PC. Telkens wanneer een verbinding is gemaakt, wordt de VAS 5054A software geïdentificeerd met de versie op de toepassing PC geïnstalleerd. De VAS 5054A dus neemt automatisch alle nieuwe functies worden verschaft zodra een nieuwe softwareversie op de toepassing van de PC is geïnstalleerd.
De diagnostische toepassing en de bijbehorende Base-diagnosesysteem zijn op de toepassing PC geïnstalleerd.
Het diagnostische basissysteem kan toegang krijgen tot de VAS 5054A via Bluetooth of USB.
Toegang Via Bluetooth: Nadat een verbinding met de VAS 5054A opgezet, biedt de Bluetooth-software een virtuele seriële COM-poort (Bluetooth seriële poort profiel). Het diagnosesysteem Base gebruikt deze COM-poort om te communiceren met de VAS 5054A. U moet deze poort opgeven wanneer u de diagnostische toepassing installeert.
Toegang Via USB: U kunt ook verbinden de VAS 5054A de toepassing PC via de meegeleverde USB-kabel. Windows de VAS 5054A via Plug en Play detecteert en installeert automatisch de stuurprogramma's gekopieerd wanneer u het diagnostische toepassing hebt geïnstalleerd. Setup van de VAS 5054A is dan voltooid en het apparaat is klaar voor gebruik door de diagnostische toepassing.
De volgende voertuig Bus-systemen worden ondersteund:
K-lijn (ISO9141-2)
High-Speed CAN (ISO 11898-2)
Lage snelheid KAN (ISO 11898-3)
J1850 (SAE J1850)
Pakket lijst:
1 × VAS 5054A hoofdunit
3 × CD
1xBluetooth
1 x usb kabel
Product Categorie : Auto diagnostische hulpprogramma 's