PSA COM met diagnostisch hulpprogramma voor Bluetooth
PSA-COM is diagnostisch programma voor Peugeot/Citroen voertuigen. Het kan verbinden met verschillende Elektronische regeleenheden (ecu) zoals motor, versnellingsbak, ABS, Airbag/SRS en identificatie weergeven, lezen en fout code geheugen wissen, weergeven en opnemen van gemeten waarden en actuator proeven verrichten. 
PSACOM is een diagnostisch hulpprogramma voor Peugeot/Citroen, dealer leval diagnostische en programmering geavanceerde apparaat met bluetooth.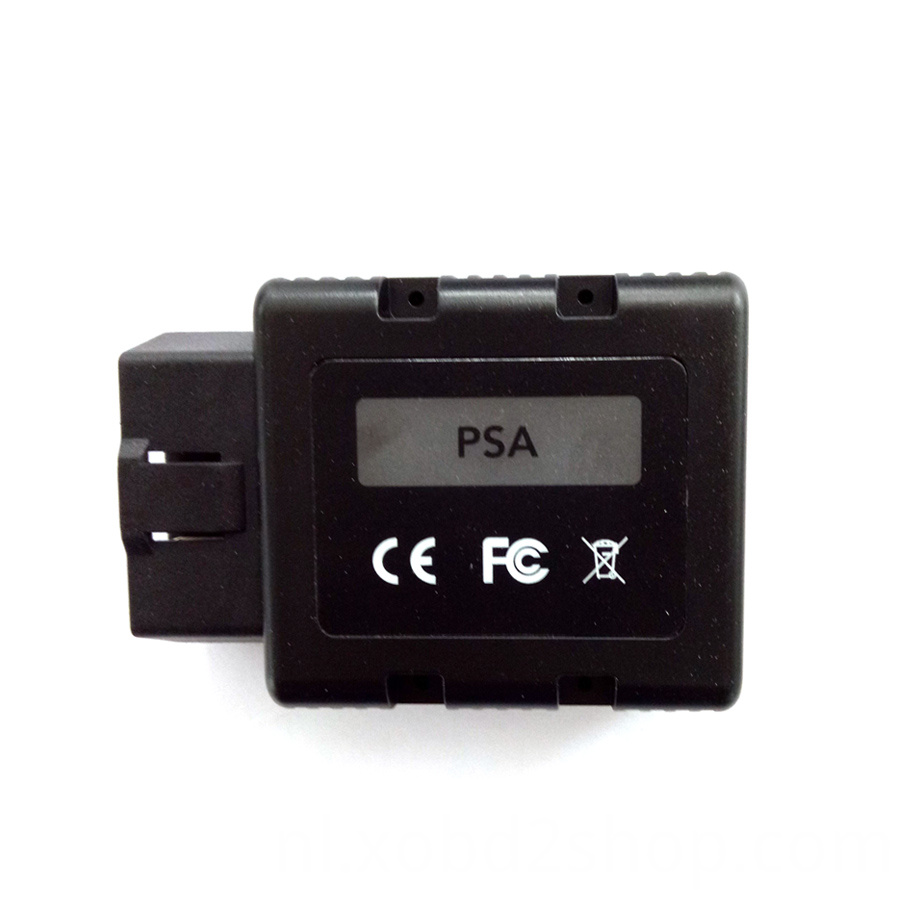 Hardware
Onze OBD2 naar USB PSA-COM-interface bevat 8 x ISO9141 K-Line, 1 x ISO9141 L-Line, CAN-BUS, en de meting van de analoge circuits. Ondersteunde protocollen omvatten ISO15765, PSA2000, Bosch KW71 en PSA2. De diagnostische interface is compatibel met Windows 2000/XP/Vista/7/8/8.1/10 of Linux en Mac OS / X (met behulp van wijn-emulatie)
Zeer belangrijke eigenschappen
Volledig multiplexed alles-in-één bluetooth-interface
Automatic ECU erkenning
Automatic voertuig scan
ECU identificatie: – vindt u alle beschikbare ecu in de auto met slechts één knop te drukken
Bluetooth-draadloze connectiviteit aan uw Windows laptop of tablet
multi-taal
Fault code (DTC) lezen
Fault code clearing, met de mogelijkheid voor het opslaan van DTC voertuig geschiedenis voor altijd

Freeze frame lezing
Measured waarden / live gegevens opnemen van Live-gegevens, volledig dynamisch met graphing van maximaal 6 datastromen tegelijkertijd een opname en andere manipulaties
Diagnostic protocol afdrukken
Actuator proeven, test componenten via directe toegang van de ECU
De functies van de Special - uitvoeren dealer niveau high-end programmeren/codering *, zoals:
oKey programmering
oService reset
oDPF (roetfilter) regeneratie
oEGR (Uitlaat Gas recirculatie) zelftest
oAirbag programmeren
oInjector programmeren
oPower Steering kalibratie
oECU vervanging
oCar configuraties
toetsen oen veel meer...
Product Categorie : Auto diagnostische hulpprogramma 's